HD Stafford Good Citizen Award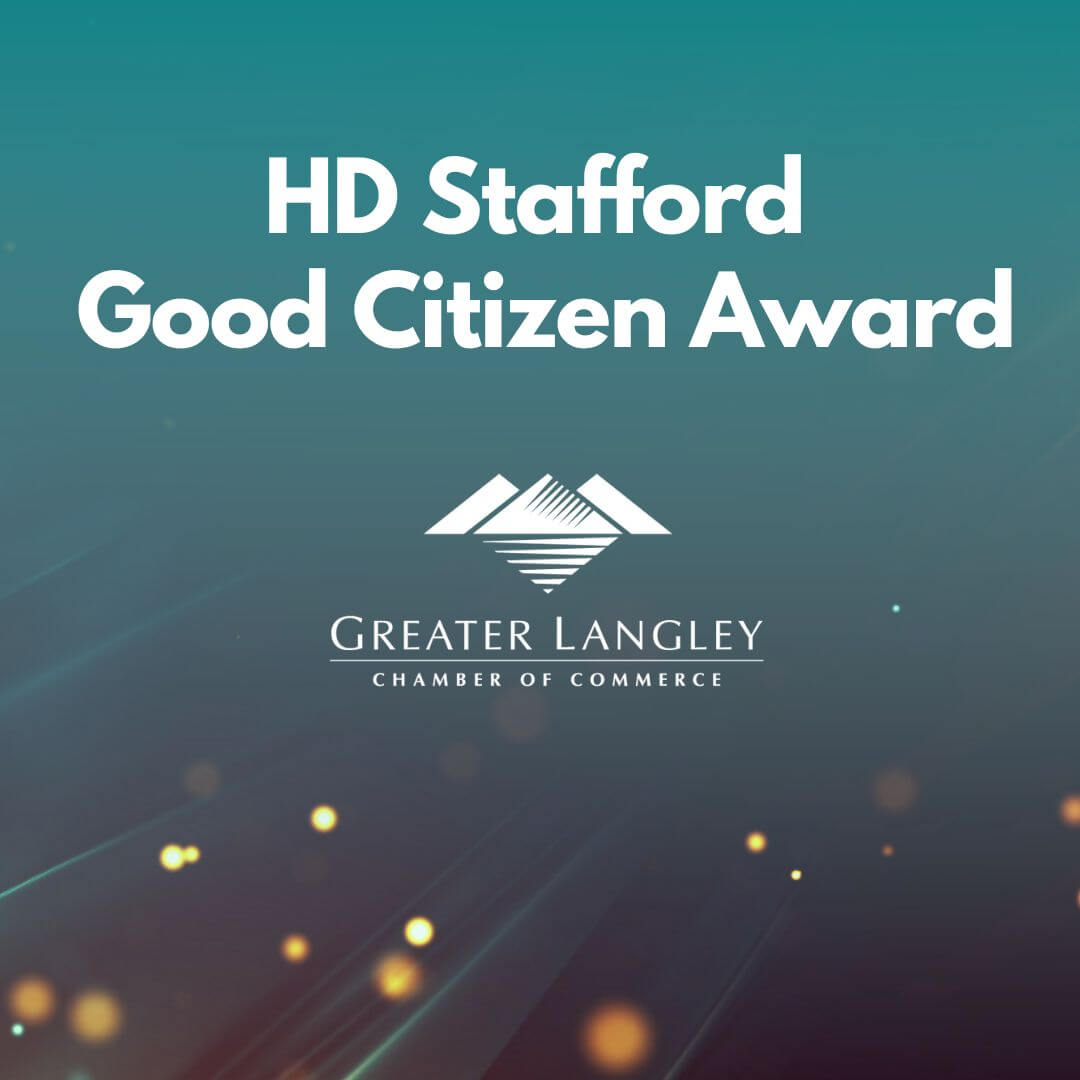 Since 1980, the Greater Langley Chamber of Commerce has presented the HD Stafford Good Citizen Award to a deserving resident of the Langleys in recognition of their outstanding contribution to the community.
This award honours an individual who contributes towards bringing together our diverse community to make a positive difference to Langley.
The award is dedicated to the memory of the late Harold Stafford who epitomized what a good citizen should be.  Harold Stafford dedicated incredible time and effort on initiatives to make Langley a better place to live, work, and play.  Whatever project or cause Harold Stafford became involved with was approached with admirable tenacity and dedication, in the pursuit of enacting positive change and influence on the community.
1980 ~ Norma Bishop
1984 ~ Jack McKinnon
1988 ~ John Osenton
1992 ~ Iris Mooney
1996 ~ Linda Steier
2000 ~ Joan Chesney
2004 ~ Tim Lounsbury
2008 ~ Davis Esworthy
2012 ~ Susan Magnusson
2016 ~ Gordon Zacher
2020 ~ Kimberly Snow
1981 ~ Al Angrignon
1985 ~ Betty Cox
1989 ~ John Condor
1993 ~ Eric Bysouth
1997 ~ Weir Muir
2001 ~ George Preston
2005 ~ Marlene Grinnell
2009 ~ Casey Smith
2013 ~ Les Clay
2017 ~ Michael Jacksetien
2021 ~ Manjit Gill
1982 ~ Len Nicholas
1986 ~ Rosette McDonald
1990 ~ Jim Clark
1994 ~ Sylvia Anderson
1998 ~ Norman Sherritt
2002 ~ Dale Ball
2006 ~ Jim McGregor
2010 ~ John Pybus
2014 ~ Bev Dornan
2018 ~ Phil Jackman
2022 ~ Kathy Derksen
1983 ~ Robert Thompson
1987 ~ Robena Rutherford
1991 ~ Hilda Reddick
1995 ~ Audrey Wright
1999 ~ Maureen Pepin
2003 ~ Jean Deck
2007 ~ Dick Hooper
2011 ~ Terry Metcalfe
2015 ~ Milt Kruger
2019 ~ Gus K. Hartl