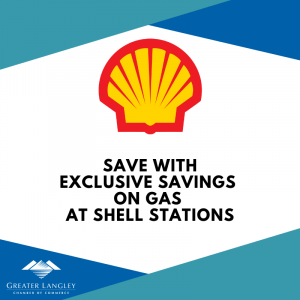 SHELL
Langley Chamber members can save money on all sorts of business and everyday expenses through our Member Savings partnerships, including 8¢ per litre of fuel at Shell stations (for the first four months) and then 4¢ per litre after that!
We know high fuel costs eat into budgets and add to your business input costs.  This new program from the Langley Chamber in partnership with the BC Chamber, will help you and your business save more at the pumps.
Contact us for info on how you can sign up and request this special Shell discount > 
ESSO
Exceptional fuel savings
The Esso and Mobil Business Fleet Card Program, means that you and your team can enjoy a 3.5¢ per litre* discount on every fuel purchase at Canada's largest retail fuel network of over 2,000 Esso and Mobil stations.
In addition to significant savings on your fuel bills, the Esso and Mobil Card program has multiple advantages and benefits for your organization:
Fuel securely with prompts at the pump and 24/7 customer support.
Track fuel spending easily with paperless receipts and insights into every transaction.
Pay bills, manage cards, and mitigate unauthorized spending with online and mobile tools.
Fill up with Synergy Fuel™, engineered for better gas mileage** at over 2,000 Esso and Mobil stations across Canada.
Get on the road to rewards with the PC Optimum program.***
Save 10% on all oil changes at Mr. Lube when you show your Esso and Mobil Business Card or Premier Plus Business Card.
Contact us to find out how to access this members-only fuel savings.
Petro-Canada
Access to Canada's largest gasoline and diesel network
Take control over your fleet's operating costs and have more time to spend on growing your business. Petro-Canada™ is pleased to offer you the following benefits through the SuperPass fuel card:
Discount of 3¢ per litre on all grades of gasoline.
Discount of 3¢ per litre on all grades of retail diesel
10% off on car washes
To save money at Petro-Canada contact us today.